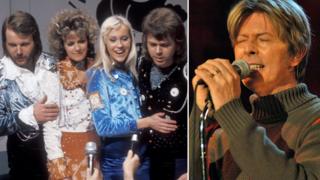 David Bowie, John Peel and Sandy Denny will all receive blue plaques in their decorate, thanks to nominations made by BBC local radio listeners.
Forty-seven medals will be launched on BBC Music Day this Thursday, recognising pioneering musicians and music venues around the UK.
Motorhead star Lemmy will be celebrated at Port Vale FC, which has adopted Ace Of Spades as its informal anthem.
Superstar tenor Alfie Boe will be the only living recipient of the award.
His plaque will be launched at Marine Hall in Fleetwood, where the musician yielded his first public performance at persons under the age of 14.