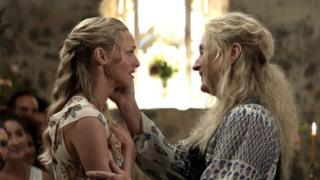 Here We Exit Again.
The first trailer for the highly-anticipated sequel to 2008 's Mamma Mia put on Thursday.
Earlier versions of it may have leaked on the internet in the last few days but we don't talk about those so hush now.
When it was secreted, the first Mamma Mia movie briefly propped the claim as the highest-grossing film liberate in UK film history.
( Of track, that was before the handout of Skyfall, Spectre and Star Wars: The Force Awakens. Basically, Mamma Mia is now in ninth target .)
We've "ve been through" all two minutes and 24 seconds of the Mamma Mia! Here We Travel Again trailer – several times, to be honest – and we have the following questions.

1. Where in the name of Chiquitita is Meryl Streep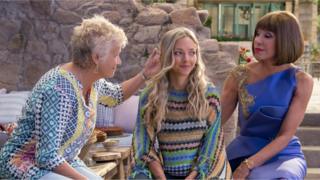 So there we were, clicking on the trailer on a perfectly lovely Thursday morning, expecting unfiltered, light-footed, fluffy, Abba-drenched escapism.
But no: the Mamma Mia 2 farmers have decided to obliterate any mistaken sense of security we'd all been foolishly lulled into in the promo's opening seconds.
As flashback images of Meryl Streep run across the screen, Julie Walters tells Amanda Seyfried: "Your father was the bravest being we ever met."
Hold the phone.( Ring Ring etc .) Did Mamma Mia merely kill off Meryl Streep? SHE WASN'T EVEN THAT OLD.
Perhaps the actress has been too busy over the last couple of years triumphing awardings to make room in her planned for a mimed rendition of Voulez-Vous.
But still, if Donna Sheridan is dead in Mamma Mia 2, "weve already" does so with 2018.

2. Haven't we ensure Jeremy Irvine do something like this before
In 2013 's The Railway Man, Jeremy Irvine frisked a young Colin Firth.
He looked like a young Colin Firth, he seemed like a young Colin Firth, he WAS a young Colin Firth – as Louis Walsh might have said.
So now that he's climbed aboard Mamma Mia 2, and Colin Firth is also in Mamma Mia 2, surely he'll be reprising his persona as a younger form of the Oscar-winning actor?
Not quite. He's dallying a young Pierce Brosnan instead, which – if we didn't previously know from having simply gaped it up on IMDB – we certainly know now from his haircut in the trailer.

3. Oh my idol. It's Cher.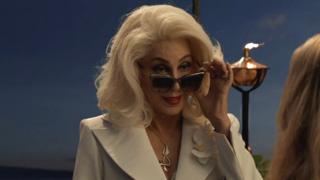 With blonde hair and sunglasses.
And apparently she's frisking Meryl Streep's mum, as Amanda refers to her as "Grandma".
In real life Cher is only three years older than Meryl Streep so that gestation must have been quite the medical breakthrough.
"Grandma, you weren't invited, " smiles Amanda in the trailer – the various kinds of smile that also says "oh my good look it's Cher I can't belieeeeeve it."
"That's the best kind of party little girl, " Cher responds. Well put.

4. And look there's Will from W1A.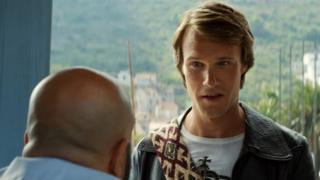 He's back in all his swooshy-haired immortality, and this time he isn't time carrying Hugh Bonneville's fold-up bicycle.
Yeah , no yeah , no chill, yeah no worries.

5. The vocals. THE SONGS.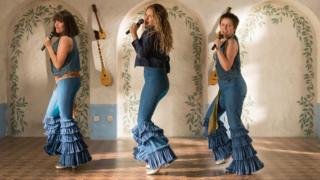 For so long, we've all been kept awake, night after night, thinking which Abba classics will make it into the movie sequel.
We are now three carols closer to having the answer – as the trailer features I Have A Dream, Dancing Queen and Mamma Mia.
Earlier this year, Benny Andersson from Actual Abba told BBC Radio 2 that the movie would also feature Angel Eyes, I Speculate and When I Caressed The Teacher.
But passed how many of the large-hearted chants were mopped up by the first film, they don't have many other songs left to play with.
The major excisions from the first included Fernando and Knowing Me, Knowing You. Beyond that, there may have to be some more repeats.
Which is fine by us, as long as one of them is Waterloo – because that one was cruelly relegated to the ascribes in the first film.

6. There's a new girlband in town.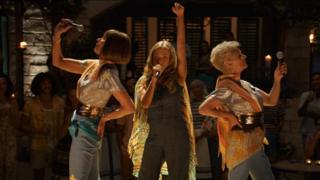 Amanda Seyfried now appears to be performing with her mum's pals, give full play to Christine Baranski and Julie Walters, in the new film.
It labours both as a stroking tribute to Streep, and too as a see of what the Sugababes might have was like after the other few decades of line-up changes.
Anyway, whatever other astounds are in Mamma Mia: Now We Lead Again, we are so ready for this film.
For now, we say Thank You For The Trailer, which you can watch below.